In the realm of interior decor, maps have emerged as captivating and versatile design elements. Among these, multi-panel wooden world maps have gained significant popularity. These artistic and functional pieces not only serve as a representation of our global interconnectedness but also add a touch of sophistication to any living space. Decorating with multi-panel wooden world maps not only brings a sense of adventure but also offers a unique blend of aesthetics and educational value.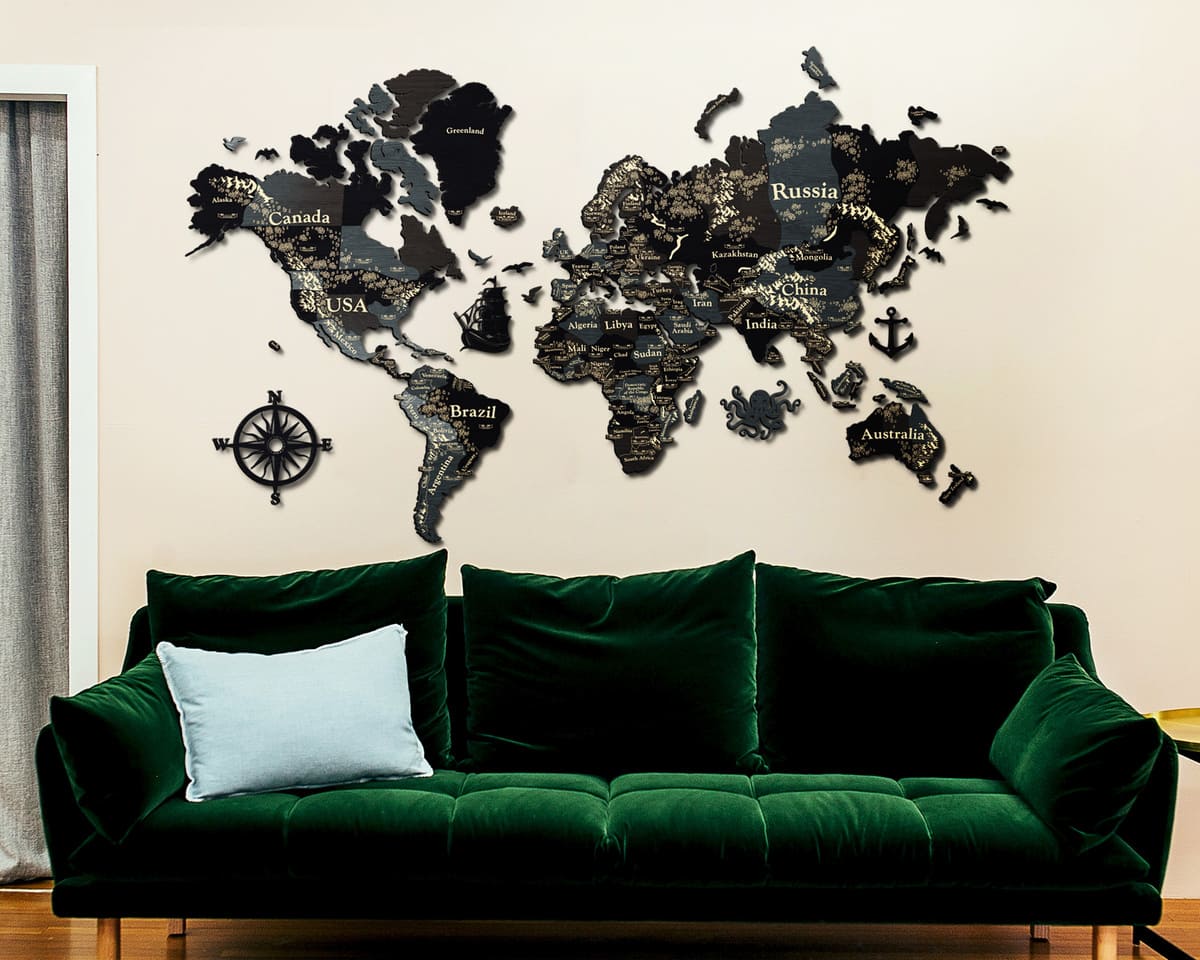 Here are several compelling reasons why incorporating multi-panel wooden world maps into your decor can infuse a sense of global inspiration:
Artistic Appeal: Multi-panel wooden world maps are crafted with precision and artistic finesse. The intricate details of continents, oceans, and countries provide a stunning visual focal point that can enhance the overall aesthetics of a room. The combination of natural wood grain and intricate map design creates a beautiful juxtaposition of organic and geometric elements.
Educational Value: These maps are not just for decoration; they also serve as educational tools. They can spark conversations about geography, history, and world cultures, making them ideal for children's rooms or family spaces. Learning about the world becomes an interactive experience as you trace your fingers across the map.
Versatility: Multi-panel wooden world maps come in various sizes, styles, and finishes, allowing you to find the perfect match for your decor theme. Whether your space is rustic, modern, or eclectic, there is a wooden world map design to suit your needs. Additionally, you can choose between maps with muted earth tones or vibrant, colorful options.
Personalization: Some manufacturers offer customization options, allowing you to personalize your map with engraved markers, pins, or labels. This adds a personal touch and makes the map a reflection of your own travel experiences or aspirations.
Conversation Starter: These maps often become conversation starters, igniting discussions about travel, exploration, and cultural diversity. They can inspire wanderlust and encourage you to plan your next adventure, making them ideal for home offices or study spaces.
Global Perspective: In a world that is becoming increasingly interconnected, multi-panel wooden world maps remind us of the importance of global perspective and understanding. They celebrate the diversity of our planet and promote a sense of unity among its inhabitants.
Nostalgia: For those who have traveled extensively, or for those who have lived in multiple countries, these maps can evoke a sense of nostalgia. They serve as a reminder of the places you've been and the memories you've created.
Visual Impact: When properly lit and strategically placed, multi-panel wooden world maps can create a dramatic visual impact. They can be the centerpiece of a room or add depth to a gallery wall, making them a versatile choice for interior decorators.
Durability: Crafted from high-quality wood, these maps are durable and designed to stand the test of time. They can withstand changes in decor trends and continue to be a cherished part of your home for years to come.
In conclusion, decorating with multi-panel wooden world maps is not just about adding an attractive piece to your decor; it's about infusing your space with a sense of global inspiration and cultural appreciation. These maps bridge the gap between art and education, making them a valuable addition to any home or office. Whether you're a seasoned traveler or an armchair explorer, these maps can transport you to different corners of the world, fostering a sense of wonder and curiosity about the planet we all call home.
Source: just-likewood.com